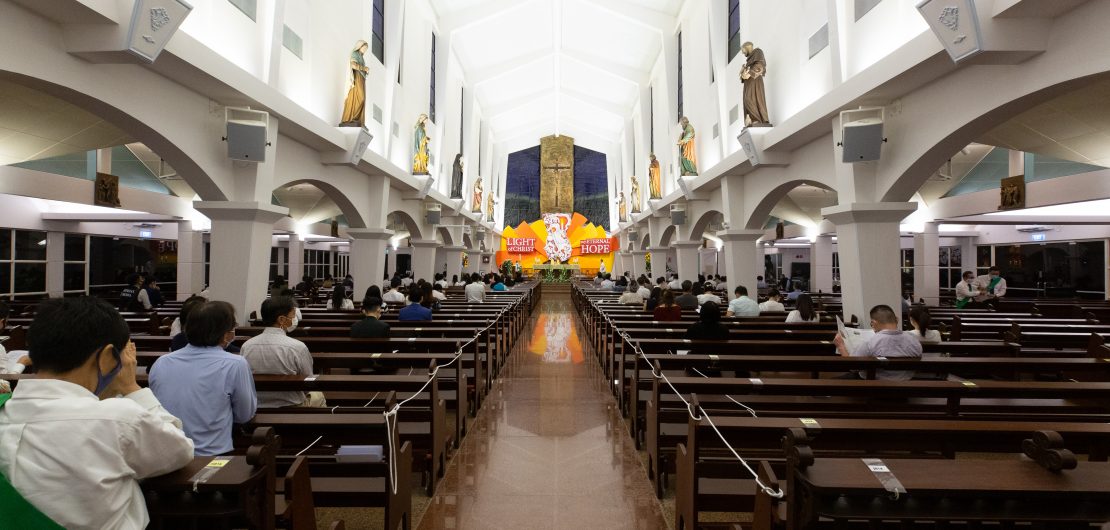 In view of the current surge in Covid-19 cases, and in compliance with stricter safety measures by the Multi ministry Taskforce and MCCY, the following will take effect from Sunday 16 May to 13 June 2021:

– Re-booking of Mass for Monday 17 May to 31 May will begin on Sunday 16 May at 12noon on mycatholic.sg.
– All Mass from Monday 17 May will be capped at 50 persons per Mass.
– Masses will be celebrated at the JPII Hall starting from Monday 17 May for 50 pax.
– Please note the following will be suspended until further notice: Confession, Columbarium.
Things to note:
Please come at least 30 minutes before Mass begins. Registration ends 10 minutes after Mass begins.
Main Church will be closed and all Masses will be held at JPII Hall.
Mass registration entry is via the Plaza (outside JPII Hall). No walk-ins are allowed for all Masses.
It is mandatory to use the TraceTogether app or token for SafeEntry into SFX premises. Parishioners with tokens without working batteries will be denied entry even if they have a valid booking.

Please bring along your physical photo identification card (NRIC/FIN/Passport) for MARS booking verification.

Please be charitable to cancel your booking 24 hours in advance if you are unable to attend. A no-show for Masses that have been booked is being tracked in the system.

From June 2021, all bookings in MARS will come with a booking number. This will reduce the need for a Mass re-booking exercise should regulation change.

Please promptly leave the premises once the mass is over.

Stay at home if you are feeling unwell or at high risk.
Let us cooperate with our volunteers and keep our parish community safe!