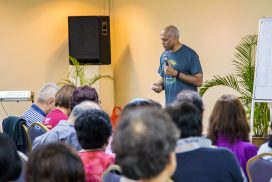 Spreading the love of the Word of God
Our Mission Statement: To promote the Love for and the Knowledge of the Bible as the Living Word of God. Through the Understanding of Scripture, we foster the Conversion of Heart, and the Building of Communities of Faith, founded on the Word of God.
We share our love of the Bible by running Bible Study courses at SFX. Our sessions are within each session of the courses we run :-
DVD-based Bible Study Courses with Study Guides and includes group sharing discussions  led by Bat members/facilitators to reflect on the bible passages refered to in the video, using the material in the Study Workbooks. Participants come in prepared, having been given 'homework assignment' from the Study material the week before.
Lecture style courses with Q&A. Our class  is given the relevant Text of the Bible & complementary notes provided by the Speaker (soft copies) in this lecture style courses. Our Speakers can be bible scholars like Msgrs Ambros Vaz, Rev Fr Eugene Vaz to name a few or run by our own team member using church approved sources of bible study material.
We organize 2 to 3 courses in a year, averaging 10 to 14 weeks for each course. Every couple of years we add a 24 weekly course ~the Bible Timeline, the story of salvation. We encourage members to join in the stay-in annual weekend retreat led by Msgr A. Vaz
Weekly courses on Wed, 8pm to 10pm & Sun, 9am to 10.45am
Members meetings outside of Course sessions are not fixed & only called for to discuss directions of the Ministry, selection of course material  or anything requiring group feedback or decisions.
sfxBAT members are ordinary members of the parish; not bible experts but simply made up of people who have been touched by what they have found in the Bible and the enthusiasm to help spread the love of the Word of God. We derive a lot of personal growth from the preparations for our Bible classes and Bible retreats, which we hope to organize not only for sfxBat members but also our Bible study participants.
Members joining us can help in different aspects of work: Program organiser, Facilitators for bible study discussions, Logistics (arranging snacks/beverage for classes) and  A/V support.
Join us
Do check the bulletin for our BAT classes on Wednesday/Sunday or contact us to check when the next class is