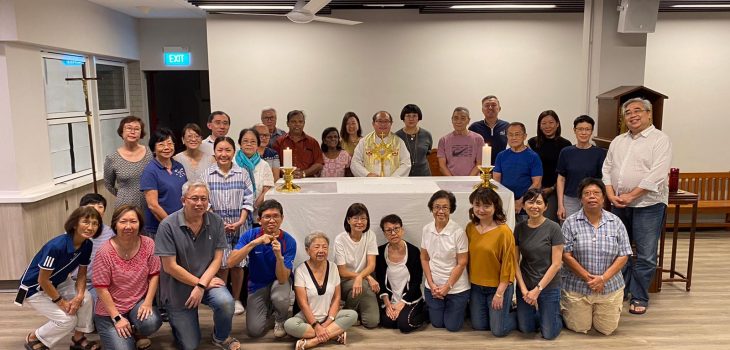 "For where two or three are gathered in my name, there am I in the midst of them." - Matthew 18:20
The Intercessory Prayer Ministry, formed in May 2019, brings together a group of prayer warriors, who gather every week to give praise, worship, supplication, and thanksgiving to God our Father, His Ever-Living Son Jesus, through the power of the Holy Spirit, as well as through the intercession of our Blessed Mother.
Invoking God's Divine presence and touching His loving heart through faithful, hopeful, joyful, grateful, and penitent prayer, go to the crux of what we do as intercessors.
Following in the footsteps of Jesus, our Good Shepherd, who often prayed to His Father in heaven, and who taught His apostles how to pray, the SFX Intercessory Prayer Ministry comes together as one body to offer awe-inspired praise, humble repentance, grateful thanksgiving, and plaintive supplication as a spiritual work of mercy for everyone in need – the Church, our priests, the sick, our youth, souls in purgatory, our country, world leaders, sinners and saints among us.
Every Monday, from 8pm to 9pm, at Mt Horeb Adoration Room, a prayer leader leads our members in an hour of united hope and petition, to intercede for the most salient needs of our brothers and sisters in Christ. For it is said in Philippians 4:6, "Do not worry about anything, but in everything by prayer and supplication with thanksgiving let your requests be made known to God."
Join Us!
If you are stirred by the Spirit to be an intercessor and have a heart for communion with Christ through prayer, we invite you to join us to stand in the gap for our beloved community and the world. You may email us at intercessory@sfxchurch.sg to join the SFX Intercessory Prayer Ministry and move mountains with your prayers. Besides, good works and kind words, what better way to build a more vibrant, missionary and evangelistic Church, than to convert, console, aid and love through prayer?
How Can We Pray For You?
Matthew 8:20 says "For where two or three are gathered together in My name, I am there in the midst of them."
Let us know your prayer request, let us know how we can lift you up to God in prayer.