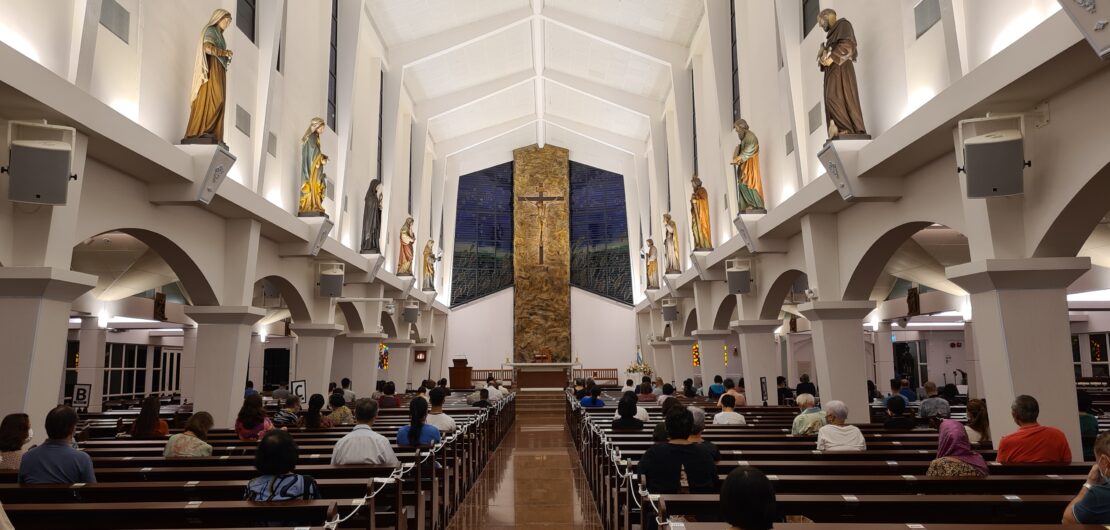 Great News! Our seating capacity for all weekend Masses has been increased to 240. You can also book for Masses at another parish. Based on feedback received, myCatholic.sg Mass Booking System has been enhanced with the following new features. Beginning 1 March 2022:
1. BOOK MASS AT ANOTHER CHURCH
Parishioners will be able to book for Masses at another church – other than their registered church. The permitted booking dates for Masses for another church will be the login date and the following two days' Masses. Check out the video below on how to book mass at another church:
On booking days, parishioners will have priority of booking in their registered churches for any day's Masses in the month, subject to the capped numbers. Thus, only registered parishioners can see the whole month's Mass schedule of the church. Non-registered parishioners wishing to book at another church will only see a 3-day Mass schedule.
2. REVISED CAP
There will be a cap of 1 weekend and 6 weekday Masses per booking (increased from 5 weekday Masses). This is regardless of whether bookings are made at your registered church or at another. This cap will be applied to ALL PARISHIONERS regardless of the church they are registered at.
3. BOOKING FOR STATIONS OF THE CROSS
Parishioners will only need to book for Mass in order to attend both Stations of the Cross and Mass for all weekday evening Masses during Lent. You may scan the QR Code on your entry ticket to access the readings for the Stations of the Cross.
4. STANDARDISED BOOKING CANCELLATION & CUT-OFF TIME
A uniform 1-hour booking cancellation and 45-minute booking cut-off before the Mass time. Please be gracious to cancel your booking earlier if you are unable to attend.
5. MASS ENTRY
Tuesdays & Thursdays Masses via Choir Entrance, all other Masses via Church Foyer and Choir Entrance.
6. BOOKING OF MASSES IN MARCH
This will be made available on the following dates at 12pm:
Sat 26 February 2022
Tue 1 March 2022
Tue 8 March 2022
Tue 15 March 2022
Additionally, we would like to highlight that:
The availability of public Masses will be subjected to mandatory adherence to the Government's regulations and advisories.
Children aged 12 years and younger can participate in all Masses, regardless of numbers and their vaccination status.
Allocation of Mass seats will still be on a first-come-first-served basis, regardless of age.
For Vaccinated-only Masses, proof of vaccination status will be checked upon entry.
The seating capacity of the churches will not be changed once the Booking cycle has begun unless the change is mandated by the Government's regulations.
Those who have recovered from COVID-19 up to 180 days from the first positive Polymerase Chain Reaction (PCR) test result obtained – will be permitted to book Vaccinated-only Masses.
Persons who are medically certified as being ineligible for vaccination, and whose ineligible status is reflected in their TraceTogether or HealthHub records will also be permitted to book the Vaccinated-only Masses.
To be kept abreast of changes that may occur, please subscribe to our SFX Telegram channel and check mycatholic.sg often for updates.
March Mass Timings
Weekday Masses:
Tue: 6.30am, 6.30pm (100pax)
Thurs: 6.30pm (100pax)
Fri: 8pm (180pax)
Weekend Masses (240pax):
Sat: 5.30pm
Sun: 7am, 9am, 11am, 1pm, 5.30pm
Additional March Masses: 
Ash Wed (240pax): 6.30am, 6.30pm, 8.30pm
Fasting and Abstinence are to be observed. 
Solemnity of St Joseph (100pax)
Sat 19 Mar: 9am