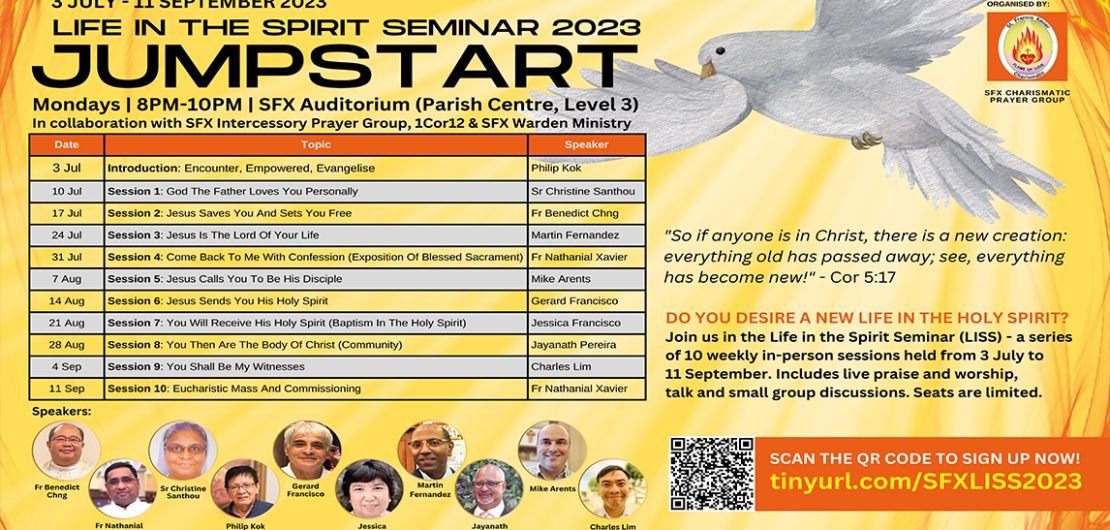 "So if anyone is in Christ, there is a new creation: everything old has passed away; see, everything has become new!" - Cor 5:17
Do you desire a new life in the Holy Spirit?
Join us in the Life in the Spirit Seminar (LISS) - a series of 10 weekly in-person sessions that includes live praise and worship, talks and small group discussions. Seats are limited! 

Dates: 3 July - 11 September 2023 (Mondays)
Time: 8PM - 10PM
Venue: SFX Auditorium (Parish Centre, Level 3)
Speakers: Fr Benedict Chng, Fr Nathanial Xavier, Sr Christine Santhou, Charles Lim, Philip Kok, Martin Fernandez, Gerard Francisco, Jessica Francisco, Mike Arents, Jayanath Pereira
Register: tinyurl.com/SFXLISS2023
Alternatively, you may complete and submit the physical form outside JPII Hall dropoff box.
For further queries, kindly contact: 9002 6616 (Jean)/ 9066 3514 (Catherine)/9672 1798 (Rose), or email us at liss2023.sfxcpg@gmail.com
Past LISS participants' testimonials: Read More

Topics:
3 Jul (Introduction): Encounter, Empowered, and Evangelise
10 Jul (Seminar 1): God the Father Loves You Personally
17 Jul (Seminar 2): Jesus Saves You and Sets You Free
24 Jul (Seminar 3): Jesus Is the Lord of Your Lives
31 Jul (Seminar 4): Come Back to Me/ Confession/Exposition of the Blessed Sacrament
7 Aug (Seminar 5): Jesus Calls You to Be His Disciple
14 Aug (Seminar 6): Jesus Sends You His Holy Spirit/ Baptism in the Holy Spirit
21 Aug (Seminar 7): You Will Receive the Holy Spirit
28 Aug (Seminar 8): You Then Are the Body of Christ
4 Sep (Seminar 9): You Shall Be My Witness
11 Sep (Seminar 10): Commissioning and Eucharistic Celebration
Follow Up Growth Series
18 Sep (Growth Series 1): Tongues, Interpretation of Tongues, Prophecy
25 Sep (Growth Series 2): Faith, Healing, and Miracle
2 Oct (Growth Series 3): Word of Knowledge, Wisdom, Discernment of Spirit
9 Oct (Growth Series 4): Fruits of the Spirit – Galatians 5:22
16 Oct (Growth Series 5): Spiritual Warfare