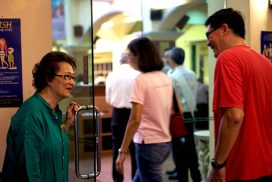 We are just your ordinary everyday parishioners who welcome our brothers and sisters before we all enter for Mass, greeting others with a warm smile and a simple "hello and "welcome". We do this to let each person know that his/her presence matters and to building a warm, welcoming and evangelizing community.
We meet for our duty, every week at the Mass we attend. We arrive 30mins before Mass to welcome our brothers and sisters.
As a community, we meet once every 6 months to pray, review and plan. We also have fellowship!
Worship
Embrace
Listen
Cherish
Offer
Meet
Everyone
This slideshow requires JavaScript.
You are Welcome!
What Qualifications do you need? You need a welcoming heart, a warm smile and a love for God's people! Come and experience it!
If you're interested do contact Anne Chen via the Parish Office.