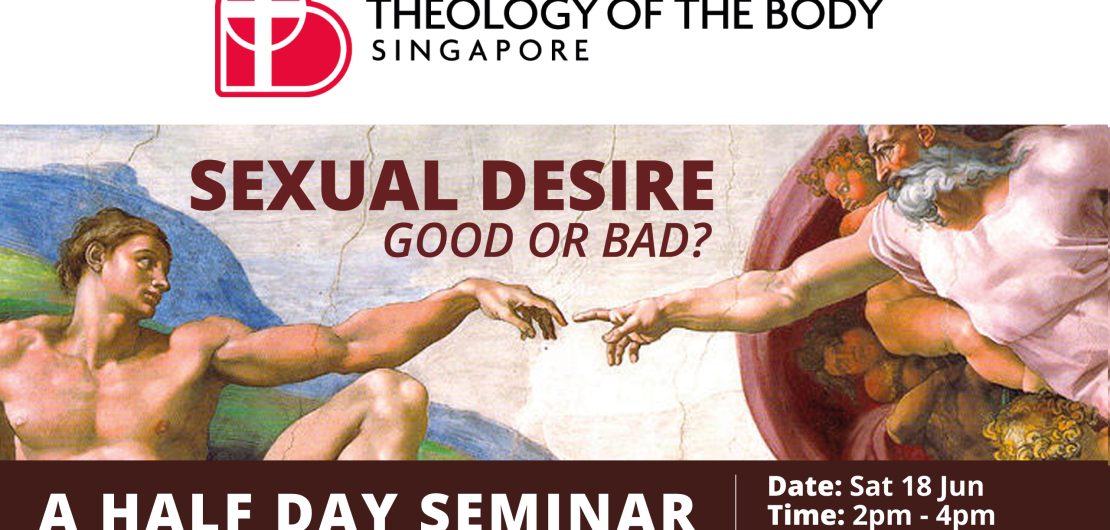 Why were we created male and female? Why sexual desire? Is it good or bad? What is sex for? What about celibacy? What exactly is Love? And lust? Come and check these out (and more!) at this introductory session by Apostolate of Catholic Truth. Let us delve a little into the TOB of Pope St John Paul II and allow it to correct our lenses, giving us a renewed and redemptive vision of the human body. For any enquires, please email to admin@tob.sg.
Date: 18 June 2022 (Saturday)
Time: 2pm - 4pm
Venue: Church of St Francis Xavier - Level 3 Parish Hall
Speakers: Mr. Andrew Kong and Dr. John  Hui
Cost: Love offering
Organiser: Apostolate for Catholic Truth
About the Speakers:
1. Mr Andrew Kong, BSc, LLB, JCL
Andrew has been giving presentations on St John Paul II's Theology of the Body (TOB) in the region for the past ten years. A magna cum laude graduate of the Pontifical University of the Holy Cross in Rome with a Licentiate in Canon Law, he also holds a Bachelor of Laws and a Bachelor of Science degree. Andrew also has also a certificate in the Practice & Principles in Counseling. He is also a certification candidate of the Theology of the Body Institute (USA), and is a qualified facilitator of the A New Language program (on the Theology of the Body).
He is The Defender of the Bond (Matrimonial) for the Archdiocesan Ecclesiastical Tribunal since February 2014. Currently he works as a consultant and trainer. Prior to this he worked at the Archdiocesan Family Life Society as a presenter cum trainer in the Society's education & training programs on sexuality and pro-life issues.
2. Dr John Hui
John is first of all a husband, father and now a grandfather. He is a family physician in private practice and the host of Catholic Parents Online. He obtained his certificate as a Natural Family Planning (NFP) consultant in 2005, having completed a course in Naprotechnology at the Pope Paul VI Institute in Omaha, USA. He subsequently obtained a Graduate Diploma in Bioethics from the John Paul II Institute for Marriage and Family in Melbourne, Australia in 2011.