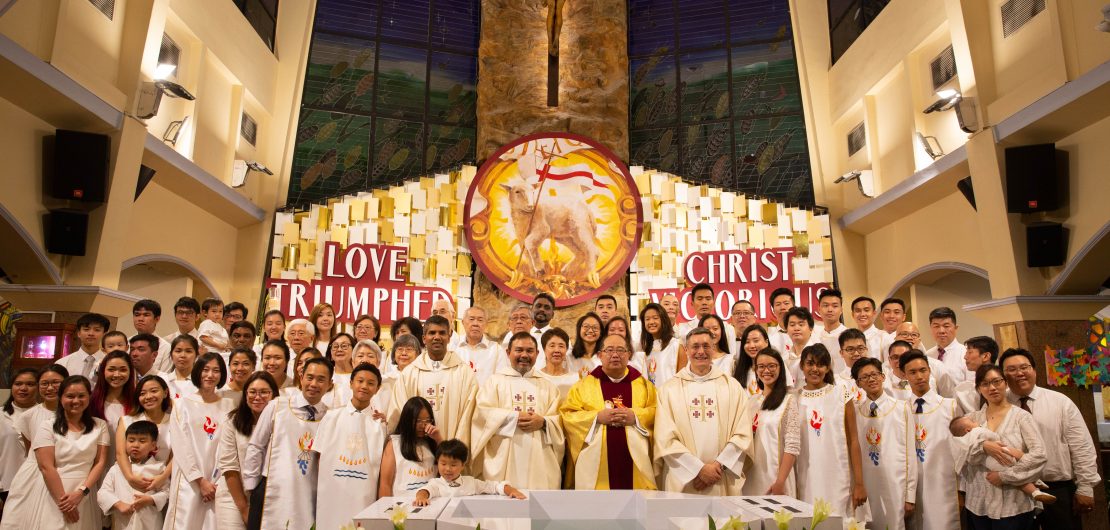 Alyssa Danielle Thong:
Growing up in a Catholic school for over 10 years, I was blessed to have been introduced to Jesus and the many wonderful works that he did. But still, I was never a firm believer of him. The only times when I would pray to him were during the dry seasons of my life when I was in most need of help. I never sought to talk to him even with a heart of gratitude when I was finally living happily.
The most memorable encounter I had with God was in the RCIY retreat during a meditation session. We were told to look at the cross and it was then that I felt a sense of warmth that flowed within me and an aching in my heart as I realised that Jesus had died on the cross for all of my sins. Suddenly, the statue of Jesus seemed to extend his arms out to me, and I could hear him say, "Give me a drink because I am he, who is speaking to you". I knew at that moment that Jesus was calling me to trust in him wholeheartedly just as he called the Samaritan woman to trust that he who appeared before her was the Lord her God. Going through RCIY was truly God's gift to me and I thank God for this most necessary journey.
Nicole Michaela Aw-Yeong:
Before coming to RCIY, I found myself searching for purpose and meaning in people and also in myself. I struggled to find my true self as I always compared myself to others all the time. Often, I was consumed with what people thought of me. At my lowest point when I was alone and afraid, I prayed and hoped that God could take away whatever anxiety and struggles I was facing. It was after I received his calling that I started searching online and asking my Catholic friends about how I could embark on the journey to know him.
Looking back on this journey at RCIY, I saw how I slowly opened up my heart to Jesus. I began to look forward to sessions every Sunday and also had my first encounter with him during the RCIY retreat. As we reflected and adored the cross while the community prayed for us, I was in tears as I felt his presence. Through the group sharings, I realised I wasn't alone and that I had a community that was so supportive. I started showing a side of me that many often don't see, and I was comfortable being myself, speaking my mind and trusting my opinions. Taking this leap of faith definitely wasn't easy for me, but Jesus has opened my eyes to see the goodness of life and the goodness of people, and this has made me a more loving individual. I believe that God has a plan for us and that even through difficult times, we should move forward with faith.
Leo Choo:
Before coming to RCIY, I had the Catholic faith but I was not baptised. I was not an active participant at the church. I did not go for mass regularly and I did not read the Bible much. Things changed after attending RCIY and I saw a big change in me. I also found myself reflecting more on my actions in relation to the Bible and started asking myself whether my actions resembled Christ.
Getting baptised on Easter Vigil night was the biggest highlight of my RCIY journey. The atmosphere was uplifting and I felt the joy of finally becoming part of the church. RCIY has really transformed me spiritually and I am delighted that I have come this far in my faith journey. It truly is a gift from the Lord!
Rebecca Metteo:
"You must be broken so that the Lord can come into you." — a Priest shared this during my very first Catholic Student Society Antioch session in school. I was not a Catholic then, but upon the encouragement of the many welcoming Catholic students, I went ahead and joined the society. This was very rare for me because I was always a worrier, someone who had a lot of fears and kept to myself most of the times. However, I was sure that one day, I would want to know more about God and become a part of his family. It was only a matter of time and self-readiness.
At a time when I had a lot of fears and worries, the opportunity came for me to decide if I wanted to join RCIY. With much support, I went ahead and started my RCIY journey. Through this journey, there were many ups and downs, affirmations and doubts. There was once in RCIY where we switched off the lights and prayed with lighted candles. That was when I fully immersed myself in prayer and I felt God telling me not to give up because he does not forsake his people. Since then, I have learnt to open my heart, cast my burden, fears and worries onto him. Often, it feels like a blinded trust fall, but I know that if I have faith and fall, I will be safe and loved. I am sure the real journey only starts now after baptism, and I am excited to share the rest of my life with Jesus.
Joel Philip Cheung:
Before embarking on RCIY, I always lived planning for the next day, week or event in life, without spending time to collect my thoughts and reflect. Social commitments were a priority for me over many other things, and I found myself struggling to discover the person within.
I began this journey in RCIY, by spending large amounts of time reading scriptures and reflecting on my daily actions, something I never found the motivation or patience to do. Even though the conversion was gradual, I felt that there was one encounter that opened up my heart more to God's presence. It was the moment when all of us were kneeling during Christmas Vigil Mass, and I heard a voice telling me: "You are in the right place." It may or may not have been my own imagination, but that was the turning point that made me believe and it pushed me to further pursue God in this faith journey of mine.
Even though my life is still not perfect, I believe that he has a plan for me and he gives me strength to find true freedom. To deepen this relationship, I will also strive to "not love with words or speech, but with actions and in truth".
Dan Tan:
Since young, I always had somewhat of a relationship with Christ and more often than not, it was usually in times of hardship and troubles, that I would seek him and pray.
My wife is a Catholic, and the desire to become a Catholic started after seeing my children go through baptism and attend catechism classes. I thought of attending RCIA before but I never submitted the form. Through a divine appointment, I met a friend who was also thinking of attending RCIA, and I took the opportunity to ask him to attend the class together. I recognised indeed that Christ reaches out to us in different and mysterious ways.
In the past months, I realised that the final hurdle that freed me to open my heart to Jesus was informing my non-Catholic parents and siblings on my decision to convert. I only came to this revelation during the RCIA retreat where I had time to reflect and unearth what was preventing me from taking the leap of faith. I finally shared it with my family and was delighted that they respected my decision and gave me their blessings.
I have come to realise that time and time again, Christ has never failed to miraculously show me the way. The path chosen has not always been a bed of roses but looking at where I am today, I'm eternally grateful for the blessings and love that he has shown me and my loved ones. On my baptism day, I was overwhelmed by the number of people congratulating me on entering the faith. Now, it's my duty to share the teachings and love of God so that everyone can join in the heavenly feast that God has prepared.
Lydia Koay:
My husband and I have been searching for God for a long time. We had been to temples and churches of different denominations. Having spent our formative years in Catholic schools, I wanted to learn more about the Catholic faith and tried to join a church group. Things did not work out, and we thought that perhaps we were not destined to be Catholics.
More than ten years passed and I started working in a Catholic school and was immersed in the Catholic culture again. I shared with my colleagues about my failed attempt to enquire about the Catholic faith and one of them introduced me to SFX's RCIA service team coordinators during the Christmas Fiesta in 2017.
When my husband and I first began our RCIA journey, I was alarmed to find out that the journey culminates in baptism and doubted that we would be ready. However, as I listened to the priests and other speakers, I slowly found my doubts disappearing. The group discussions were valuable and I was encouraged to reflect on my feelings.
During the RCIA retreat, the reflection exercises made me question my presence and mission on earth. My perception of the Catholic faith became more focused and clearer during the retreat and most of my prejudices and misconceptions gradually changed. Jesus had spoken to me and I was ready to be baptised.
I am still a work-in-progress with many unanswered questions, but I hope to grow my faith by being immersed in the Catholic community, and I look forward to continue my conversations with God and explore my new self.
Terence Sim:
I was baptised as a Christian at 21, but never saw the need to know more about Catholicism. When my wife signed me up for RCIA, I was very much hesitant. But she was always patient and praying for me, and encouraged me to attend it with an open heart and learn about the Catholic faith.
The RCIA sessions were mostly interactive and the journey was an enjoyable process. It was not the "dull or hardcore" conversion course I had imagined it to be. I did struggle along the way with some of the dogmas being discussed but I also recognised that it was really not about me but him. The stay-in retreat was great and also very meaningful. "To God be the glory; Great things he hath done" – I give thanks to Jesus Christ our Lord and Saviour for all that he has done for me in this RCIA journey.
I am here today as a member of this faith and the journey never ends until the day I meet my Lord. I believe that the Holy Spirit is within me and guiding me in my daily walk. "Be it unto me, according to your Word", according to your promises, I can stand secure.
Phriya Zita Chandrasakaran:
I have always believed Christ exists but had issues putting all my trust and faith in him. There were many times I tried to surrender myself to Christ but I did it with great trepidation. I end up drifting further because I had little faith and had so much negative baggage. This led me down a dark and desolated path. Leaving everything in the hands of someone far beyond anything I could understand was difficult for me and I didn't know how to do it.
Prior to joining RCIA, there was once when I was about to break into an anxiety attack. I closed my eyes to fight it and there was a vision of Jesus and Mother Mary holding me in their arms. The feeling was so warm. I opened my eyes and the anxiety was gone. I was amazed and truly relieved. However, this feeling did not last long when I encountered other struggles later on.
I was not exactly ready to join RCIA but I was open to it, and perhaps this was what I needed to get a clearer understanding of Christ. What kept me going was hearing other people's sharings as it always filled me with hope. Day by day, I found myself slowly opening up to Christ and have not looked back since. Being in RCIA was eye-opening for me and I was always surrounded by loving and understanding people who brought me closer to Christ. For that, I am so thankful!