Updates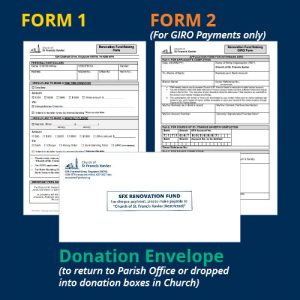 We officially begin our efforts to raise $2.3 million in order to partially fund the much needed renovations to our Church facilities. During Mass this weekend, each parishioner will be given two forms and an envelope. The first form tells us how you wish to contribute. The second form is an application for GIRO payments. The forms are available online and at the entrance of the Church.
Please seal the completed forms into the envelope, together with your contribution, and return it to the Parish Office. Alternatively, you can drop the envelope into any of the donation boxes in Church.
We will also begin to organise fundraising activities to build community spirit and communion towards our renovation programme. Those who wish to organise any fundraising activities should email renofund@sfxchurch.sg, before commencing any activities.
A big thank you to the parish for your kind support and donations!
For any enquiries related to the renovation itself, please email our Parish Building Committee at reno@sfxchurch.sg.
Frequently Asked Questions (FAQs)
1. What must I write behind the cheque made out to "Church of St. Francis Xavier (Restricted)"?
It is important that the words "SFX Renovation Fund" be written at the back of each cheque. This will help in ensuring that such funds are directed to the Renovation programme.
2. Can I make a contribution in cash?
Yes! Please fill up the SFX Renovation Donation Form with your contact details, indicating the amount of cash you are donating. Then put both the form and the cash into the envelopes marked with "SFX Renovation Fund" and return it to the church office or put into any of the Church donation boxes.
3. Are contributions tax deductible?
Contributions are not tax deductible.
4. For internet transfers (via FAST), the account number does not seem to work.
Please note that the first 4-digits 7171 is the DBS Bank code. If you are transferring via FAST, you do not need to use these four digits. Simply,
use the account number 047-9036997.
Click here for Response to Queries on Church Renovation Presentation
* Kindly note that all fundraising activities are confined to within the SFX Church community and friends only. Persons will need to be authorized by the committee to solicit donations. Please be cautious in entertaining anyone soliciting money for our renovation fundraising.
* All pictures are artist's impression, and are shown for illustration purposes only
Last updated: 23 Aug 2018
1: Church Entrance
Currently:
Neighbours have high boundary walls which block our Church Entrance
The Church Entrance is also not prominent and poorly illuminated at night
Renovations Works:
Install well-lit entrance walls and lighted church signage
Add a cobblestone pavement at the entrance
Key Benefits:
Create a better reflection of our Catholic identity
Refreshed Church Entrance is more visible and welcoming to all
Paved cobblestone distinguishes the church as a sacred space of prayer and communion
Improved road safety as cobblestones slow down vehicular speed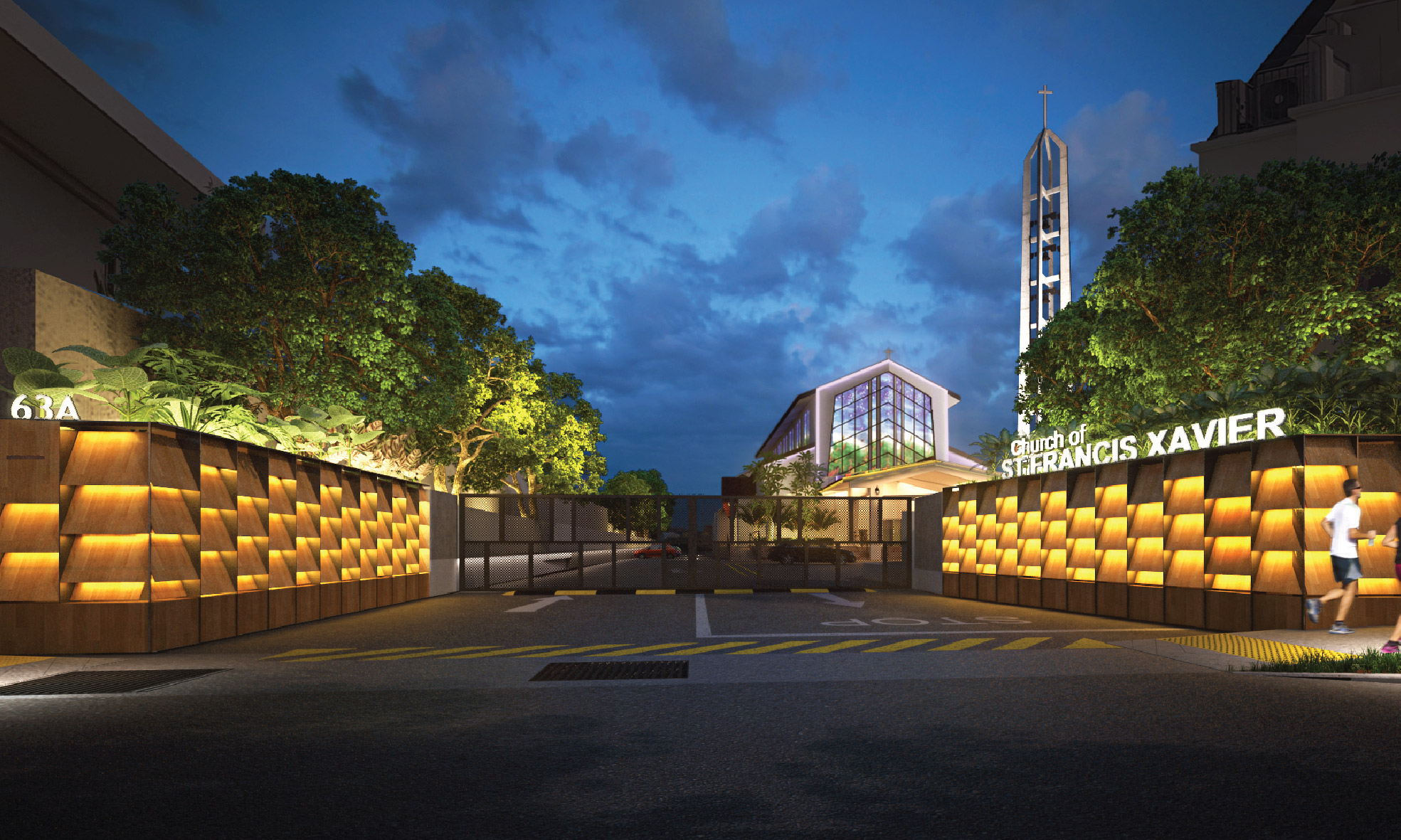 2: Front Porch
Currently:
Drivers can only drop-off passengers one car at a time, causing traffic congestion
No shelter, causing the steps to be slippery on rainy days
Existing ramp on the right of the church leads to a narrow driveway – can be quite dangerous
During events, there needs to be extra decking set up due to the limited space at the front porch
Renovations Works:
Extend shelter over drop-off area
Widen drop-off area
Extend stairs across length of front porch, and install non-slip flooring for stairs
Add a new ramp access to the left of front porch
Expand front porch area
Key Benefits:
Create a sheltered drop-off point
Wider drop-off area can accommodate up to a three-car drop-off, improving traffic flow
Non-slip floor improves safety
Ramp provides better church access for wheelchairs, prams and the elderly
Larger porch area for fellowship and increased external seating capacity
3: Main Church
Currently:
Existing air conditioning system is more than 15 years old and is not energy efficient.
Lighting in Main Church is not consistent with difference in lighting in the centre and at the side.
Pews are scratched and kneelers are old.
There are roof leaks in Main Church and Sacristy.
Cupboards in Sacristy are worn out.
Water feature at sanctuary back wall is not functioning.
Renovations Works:
Install new environmentally-friendly and efficient air conditioning system
Replace fluorescent lighting with LED lights
Refurbish pews, kneelers and sacristy carpentry
Repair roof leaks in Main Church and Sacristy
Re-clad sanctuary back wall
Key Benefits:
Quieter and more comfortable temperature control
More conducive environment for Mass and prayer
Improved brightness and lighting
Reduced electricity consumption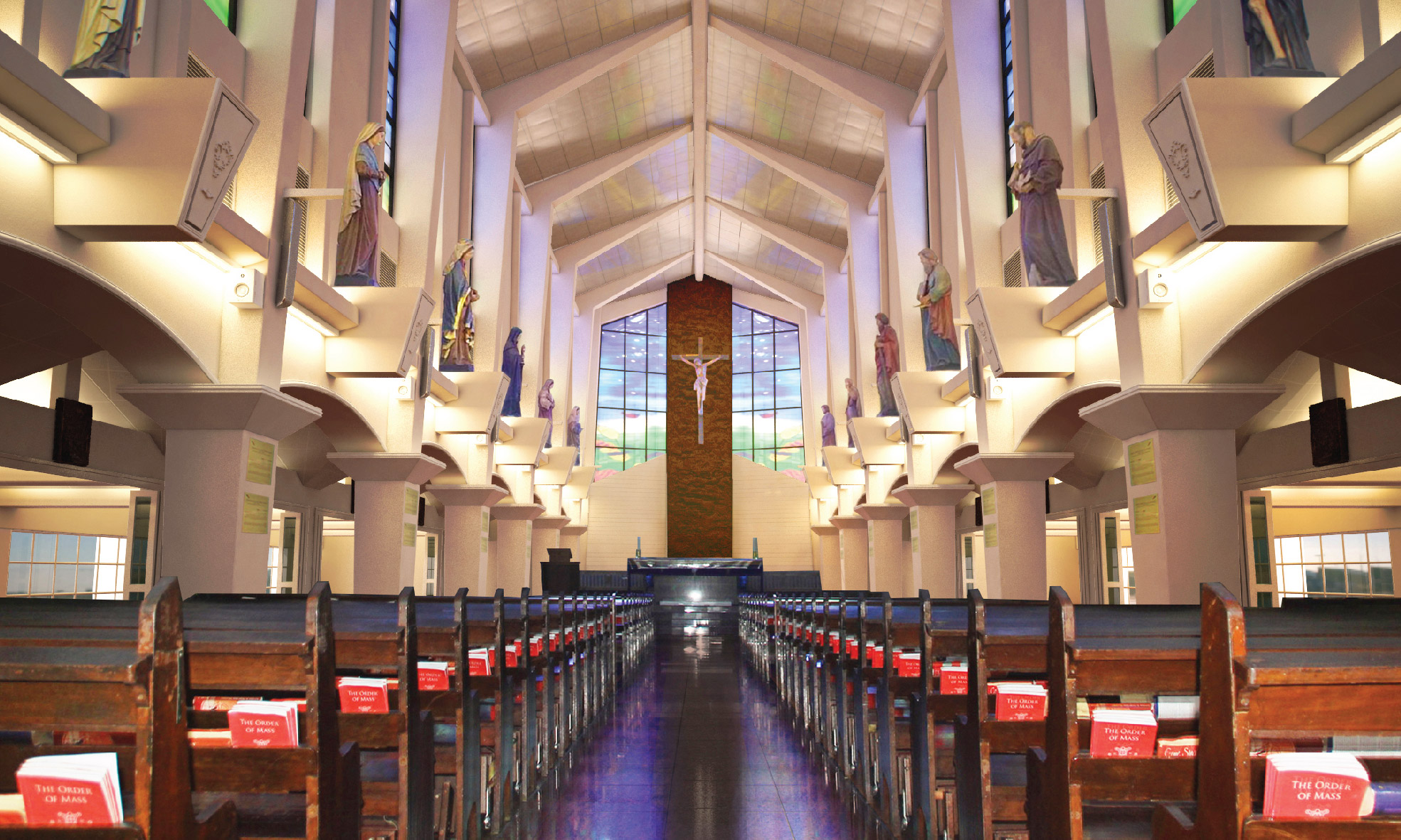 4: Plaza
Currently:
Main Church, Parish Centre and Parsonage not connected.
A total of five different levels at current Plaza, making it inconvenient and difficult for parishioners and guests in wheelchairs, with prams or even the elderly to navigate.
Steps become a hazard for the elderly especially when it rains.
Renovations Works:
Create a levelled linkway joining Main Church, Parish Centre and Parsonage
Raise roof shelter
Key Benefits:
Levelled linkway provides improved accessibility for wheelchairs, prams and the elderly
Seamless and sheltered connectivity with improved ventilation
Improved accessibility for emergency and handicapped vehicles
Spacious environment for church activities and fellowship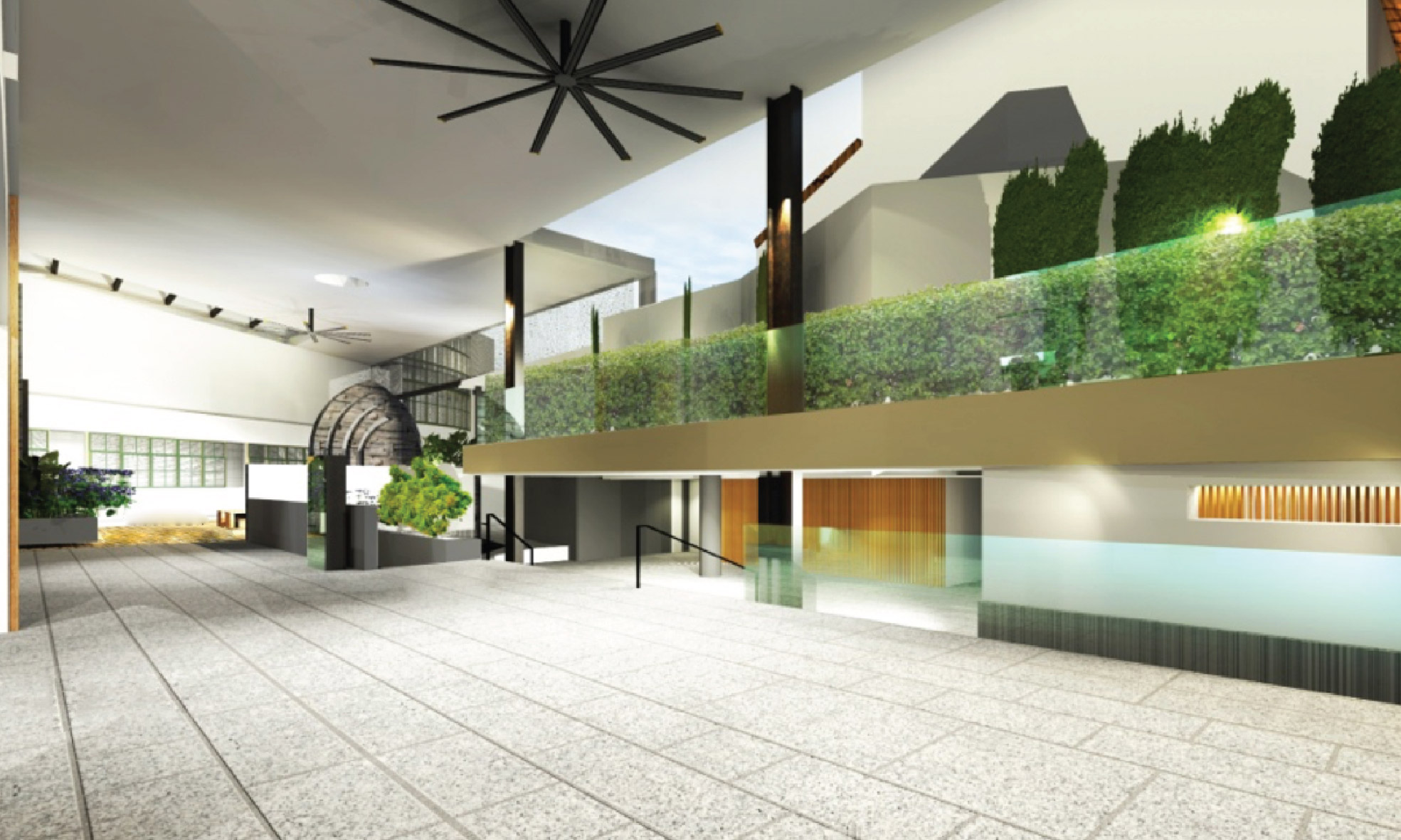 5: 'Our Lady of Grace' Grotto
Currently:
Located in the middle of the driveway, "Our Lady of Grace" Grotto is not easily accessible when it is raining. It is also not wheelchair-accessible.
Vehicles that drive past the Grotto can disrupt prayers and may compromise safety.
Renovations Works:
Relocate our Grotto into the Plaza
Key Benefits:
Minimised vehicular noise and disturbance with improved safety for parishioners and guests
All-weather accessibility with wheelchair-friendly access
More conducive environment for prayers with increased comfort from better ventilation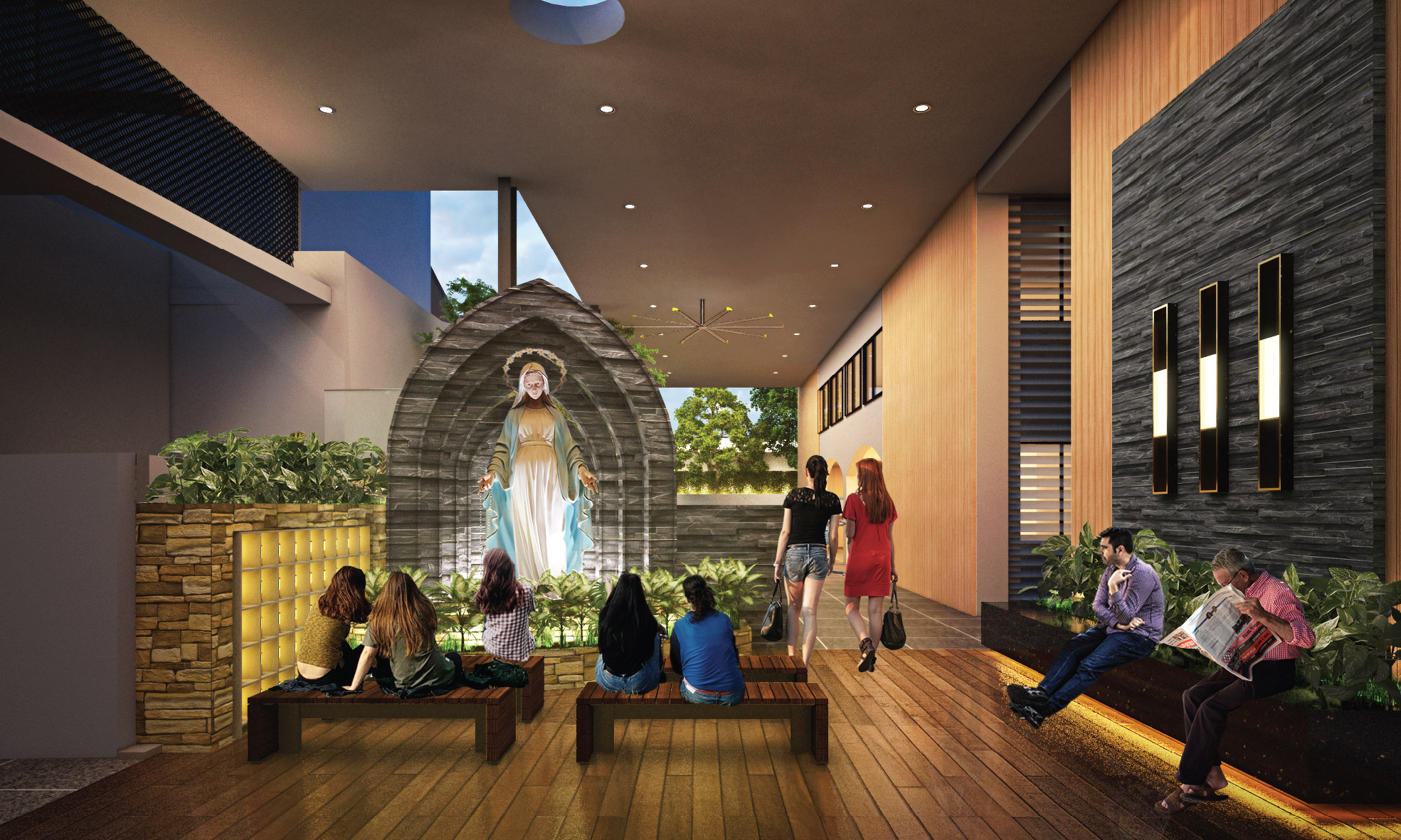 6: Church Basement
Currently:
The basement houses a poorly ventilated canteen with dim lighting
Adoration Room is not wheelchair-friendly
Not enough rooms for Church activities
Renovations Works:
Shift canteen to first storey of Parsonage
Expand Adoration Room with new vestibule
New functional rooms for prayer sessions and meetings
New Gift Shop and Library
New nursing room
Key Benefits:
Wheelchair access to Adoration Room
Larger Adoration room with improved environment
Refreshed Gift Shop
New and conveniently-located Library
Private room for mothers to nurse their babies
More rooms created - flexible space with modular walls and furniture to cater for different meeting room sizes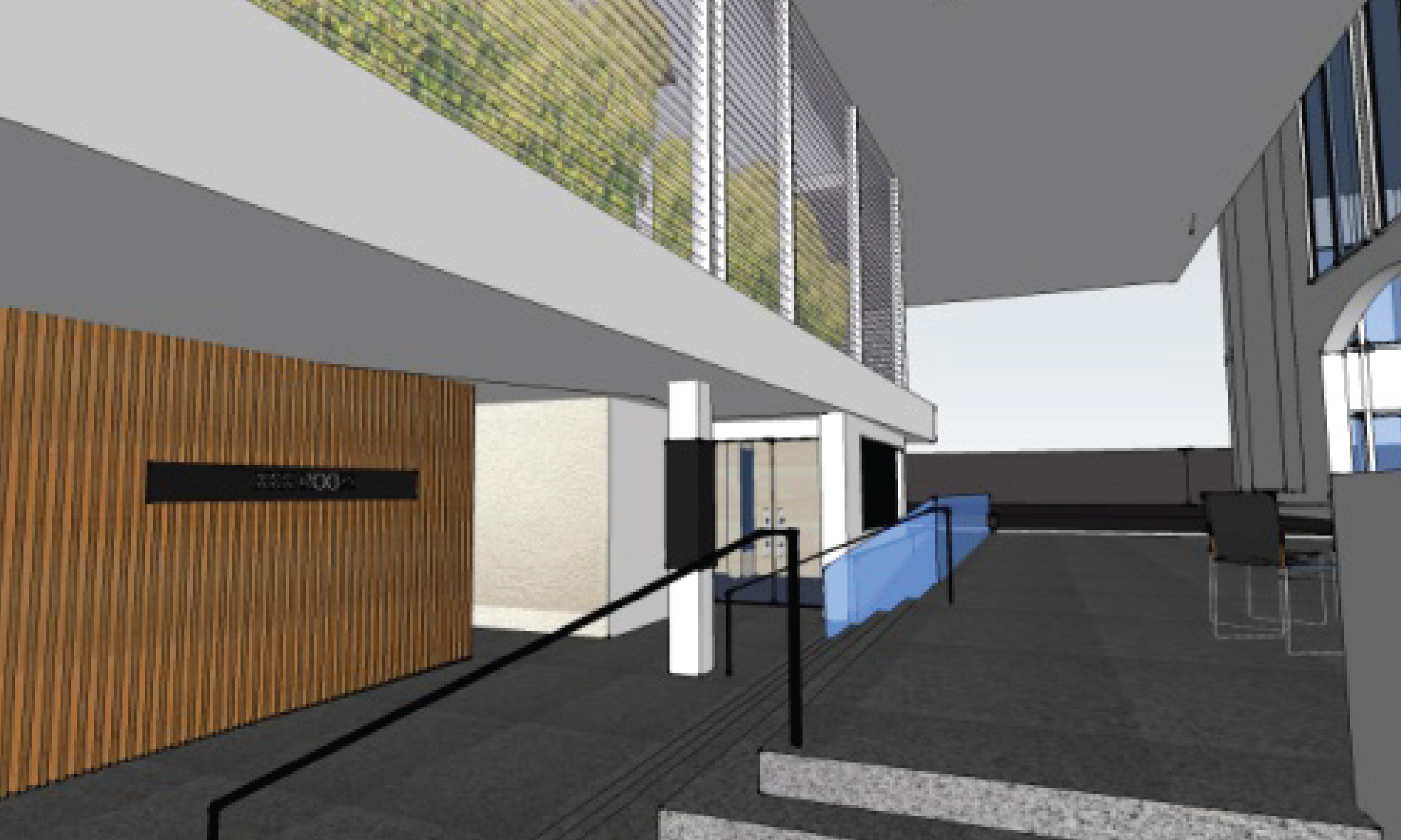 7: Community Hall
Currently:
Canteen lacks proper ventilation and is poorly lit
Existing canteen does not adhere to fire safety guidelines, and drainage is not connected to the sewer
Renovations Works:
Relocate canteen within Community Hall on the first storey of Parsonage building
Improve washing and serving spaces, with all works adhering to fire safety and hygiene guidelines
Create flexible space for gatherings and activities
Install new air conditioning systems and LED lightings
Repair leaks
Key Benefits:
Open and inviting environment with better ventilation and natural light
Increased seating capacity of 200
Crowds at bigger events can conveniently spill over to the Plaza as it is on the same level
Modular furniture with flexible spaces allow for easily reconfiguration of spaces for various needs – study area, meeting/break-out room, community events, camps etc.
Reduced electricity consumption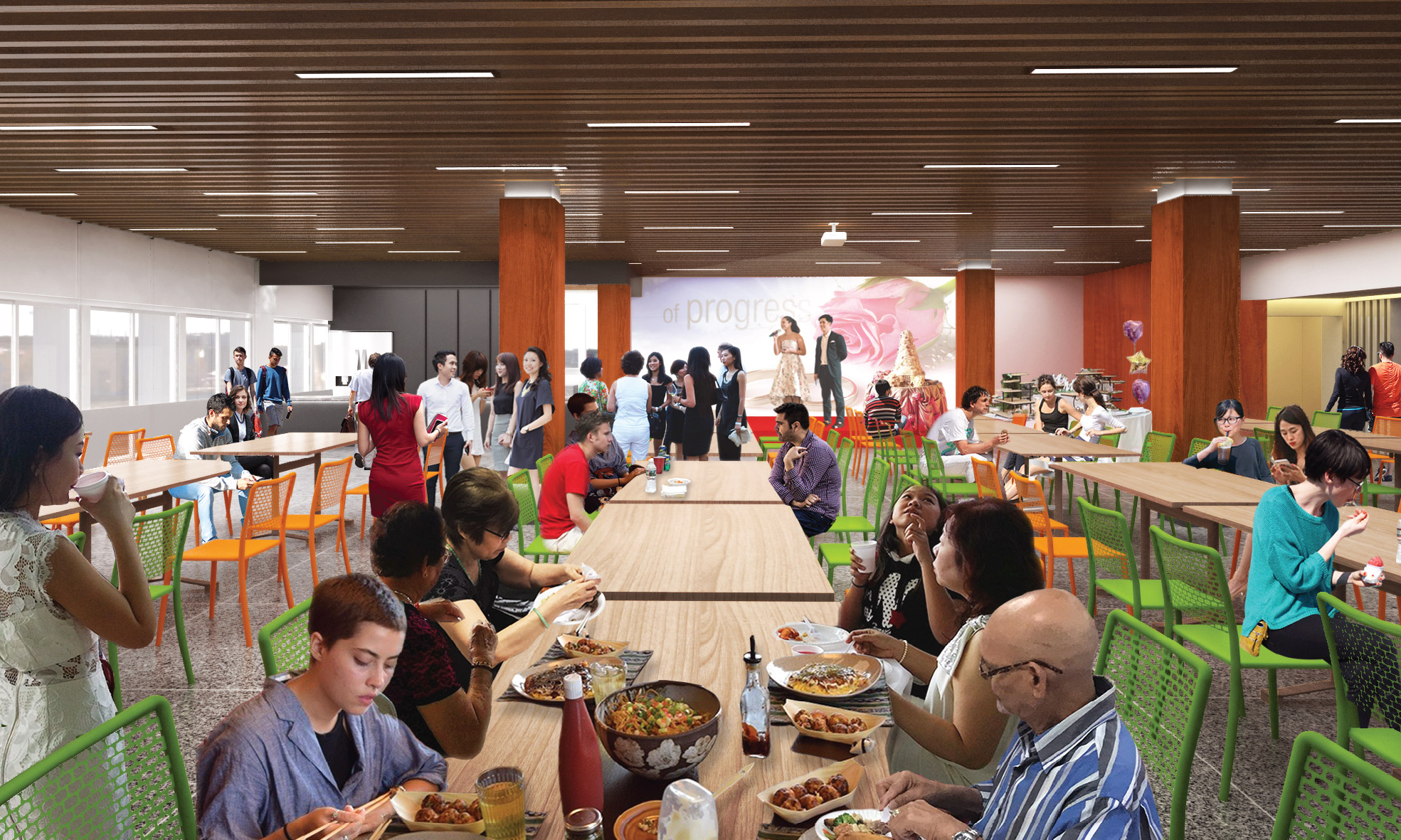 8: Parish Hall
Currently:
Parish Hall has low ceiling which limits view from the floor; columns also block the view from certain angles
Projector screen is not functioning
Acoustics can be improved
Renovations Works:
Relocate and build a new Parish Hall on top floor of the Parish Centre with a sheltered linkway to the Parsonage
New wheelchair-accessible washrooms
Install new air conditioning and LED lights
Relocate children playground to the top floor
Key Benefits:
Column-free hall with high ceiling  and improved sound acoustics
New Parish Hall can accommodate a seating capacity of 300
Flexible space for large and small scale events, seminars and retreats
Ample space outside Parish Hall for fellowship, food service, contemplation and quiet reflection
Better connectivity and sheltered access from Parsonage
Safer environment for children's playground
Reduced electricity consumption
9: Parish Office
Currently:
Cramped offices for staff
Priests do not have standardised room size
Offices are spread out and does not foster a collaborative environment
No waiting area for parishioners or guests
Does not fulfil requirement of having a secure counting room
Ceiling leaks
Renovations Works:
Relocate Parish Offices to second storey of Parsonage
Expand offices, new reception area, create multipurpose rooms and meeting spaces
Install new air conditioning system and LED lighting
Repair leaks
Key Benefits:
Proper and dignified office work areas for priests and staff with better security
Warm and welcoming reception for  parishioners and guests
Meet requirements for secure counting of church collections
Proper area for confidential and private counselling sessions, secure archival and server rooms
Flexible, multipurpose space for prayer sessions and activities
Reduced electricity consumption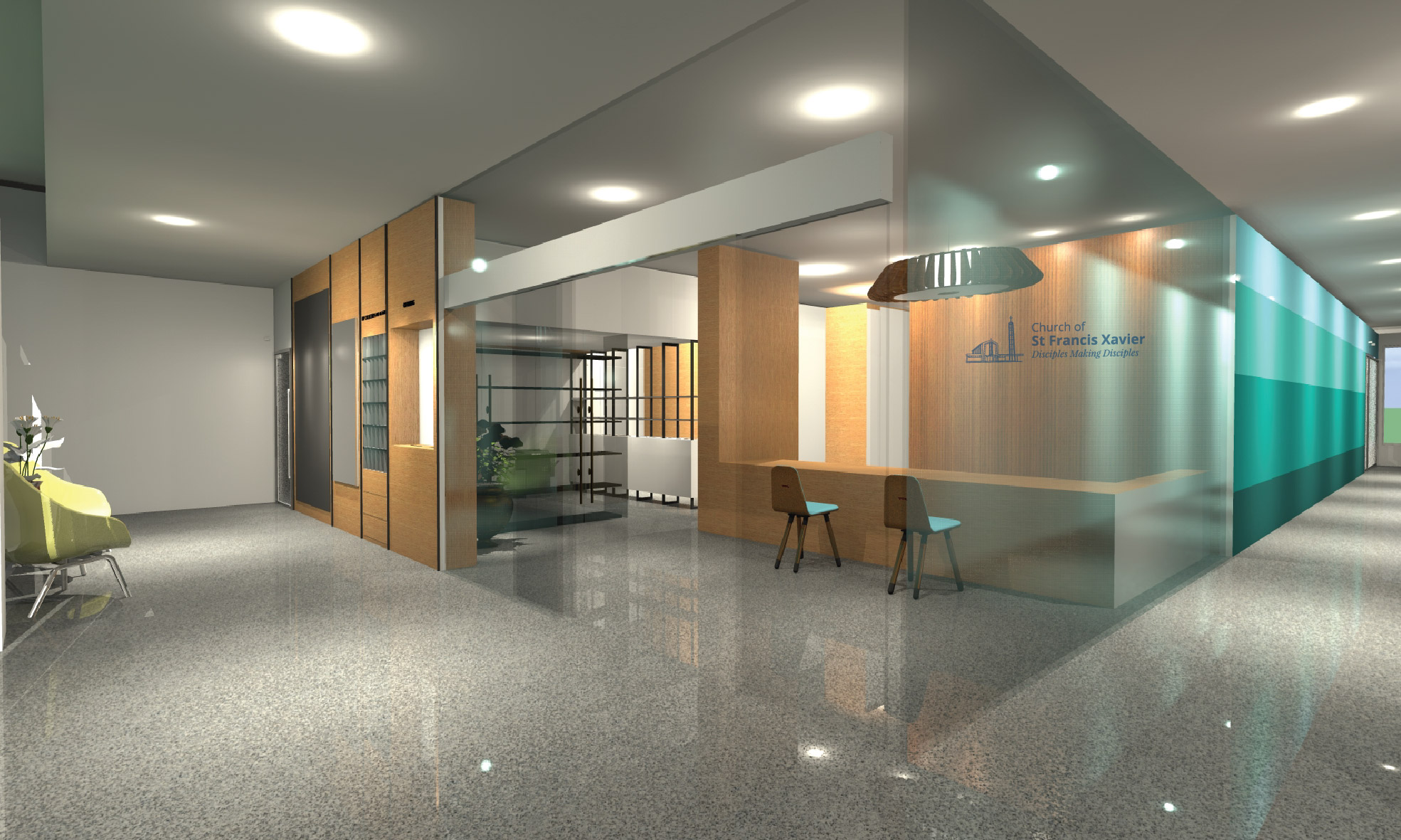 10: Priests' Quarters
Currently:
Priests' living quarters are in need of renovation with leaking roofs and mould in their rooms.
Renovations Works:
Refresh existing three rooms
Create a flexible wheelchair-friendly living space with a bathroom facility
Build a new kitchen and laundry area
Repair roof leaks
Install new air conditioning and LED lighting
Key Benefits:
New living quarters that are simple but adequate for our priests' needs
Conducive environment for them to rest
Rooms available for visiting priests
Reduced electricity consumption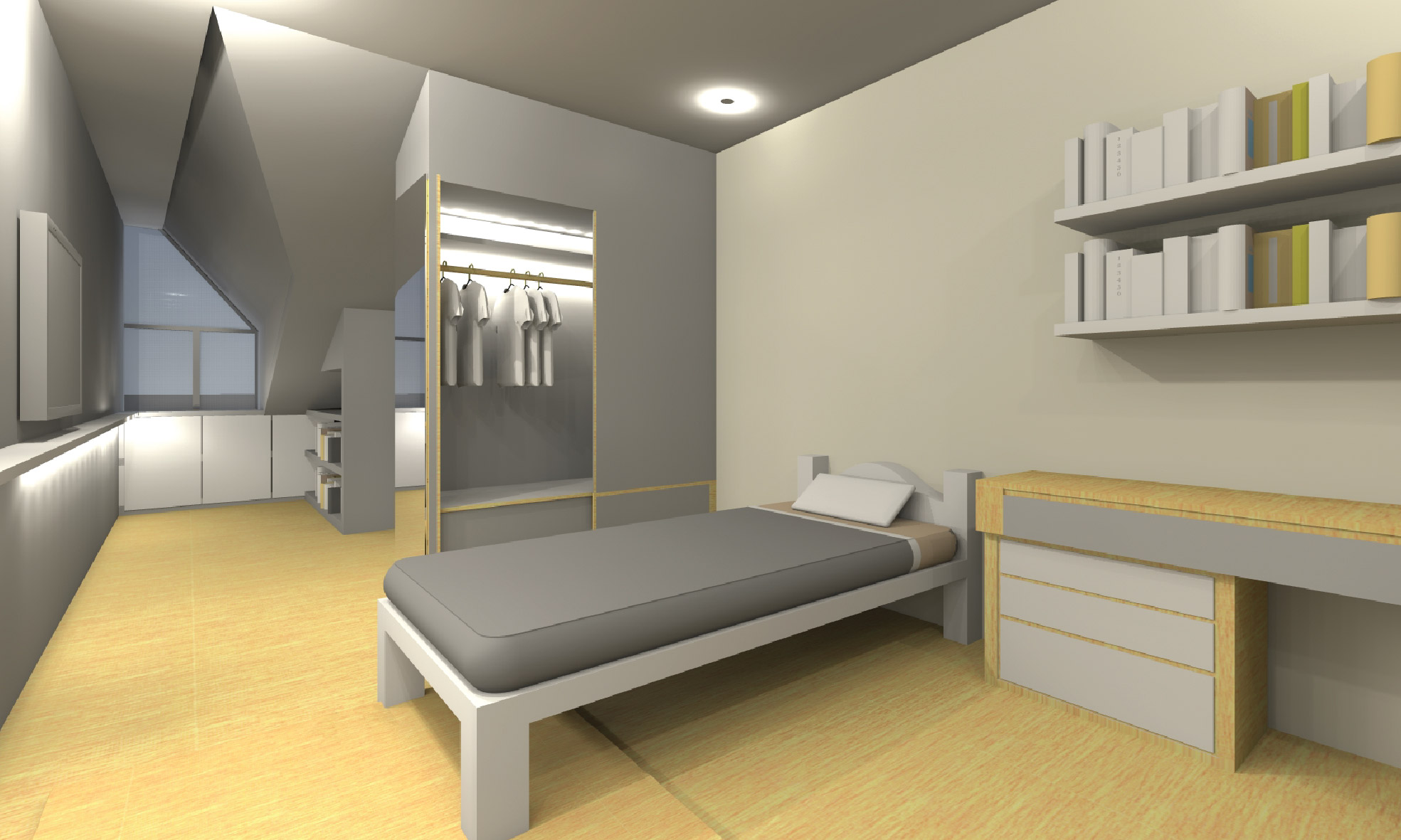 What's happening now?
This Parish Renovation Project is estimated to cost a total of S$6.8 million, where S$4.5 million will be taken from the Church's reserve, and S$2.3 million shall be raised through donations. Fundraising has begun and activities will be announced over the course of the next few months.
Pamphlets containing more details on the proposal can be found outside the Parish Office.
A list of frequently asked questions (FAQs) has been compiled, SFX_Reno_FAQ.pdf
For enquiries about the renovation, email our Parish Building Committee at reno@sfxchurch.sg.
For enquiries about the fundraising efforts, email our Fundraising Commitee at renofund@sfxchurch.sg